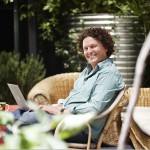 Josh Byrne Answered your Questions on Facebook.
Last Friday evening the 8th of November Josh took to the internet to answer your questions live on Facebook.
Other than the overwhelming support you have all shown for the Josh's House project, there were questions about Josh's chook pen, garden edging,  smart retrofitting hints for a 100 year old home and more.
For the full online conversation, check out Josh's House on Facebook or read below:
Inez Northover
Hi Josh, we are in Brookton, 112 km from Perth, we get winters to -5C (4 or 5 days) and summers 3-5C higher than Perth. We have followed your build. Any hints for retrofitting a 100 yr old building and reclaiming 15 yr fallow backyard? (How's that for a challenge?)
Josh's House
Sounds like fun to me! Check out the Your Home Renovators Guide for some helpful ideas: http://www.yourhome.gov.au/renovatorsguide/ (and keep watching Gardening Australia).
Raia Faith Baster Inez
You may also be interested in checking out Hemp-crete. It has been used to retro-fit old houses all over Europe; very successfully increasing insulation, air quality, humidity etc. Johan at Hemp-crete Australia is very helpful.

Fionna Brazier
Josh I just wanted to thank you for the fantastic playground you designed down at Yallingup. The kids love it.
Also Congratulation on your beautiful house it is so inspiring.
Danny Barnes
Hi Josh. I love the plant nursery. I read you plan to make it a hot house in winter and shade house in summer. What will you use to make it a hot house and how will you attach it?
Josh's House
Thanks Danny – I reckon it's pretty cute too. I plan to use a commercial nursery hothouse fabric fixed with batons over the frame. In summer it will be covered with a 50% weave shade clothe (white). Now it's warming up it's high on the job list!
Raia Faith Baster
'A commercial nursery hothouse fabric' – I presume that is NOT hothouse plastic, but a woven? fabric. Where can we google that?
Alison Slade
We find that the 50% shade cloth works really well have been using it for several years ourselves guarantees we get something over summer from the veggie patch.
Josh's House
Nice one Alison!
Phoebe Hodgson
Thank you for sharing your beautiful new sustainable home and garden journey with us – its been great watching the videos and seeing all the wonderful things you added.
Josh's House
Hi Phoebe, thanks so much for that lovely comment it means a lot to me and it has been a wonderful journey for me and the whole team as well. All the best
Dave Abdo
Hi Josh, congrats on you wonderful home and sharing your process etc with us all. Have been very encourages that we are doing the right thing with our build which is nearing completion over in White Gum Valley. My main question would be on how to improve our sand site soil. I.e. What would be a good compost to add etc? Cheers Dave
Josh's House
Thanks Dave – much appreciated.
Check out the Landscape FAQ fact sheet on the Josh's House web site to see what we did: https://joshshouse.com.au/resources/ Also – at the risk of sounding cheeky, have a look at my new book 'Small Space Organics' for detailed information and soil building and plant nutrition: http://joshbyrne.com.au/shop/ or from the Freo library.
Nicholas Flett
Hi Josh, I'm in process of designing my new garden for two young kids. What do you feel worked really well for your little ones and what would you avoid for next time?
Josh's House
HI there Nicholas Flett. The tramp, sand pit, lawn and climbing logs have all been a big hit. To be honest it'd be hard to pick a favourite as they are all getting a work out! People often ask me if I'm worried about the kids stacking it on the logs and rocks but so far so good and they've done wonders for Ollie's coordination who now jumps all over them.
Sue Lee Lim
Will you write a book about your process and designs?
Josh's House
Thanks for your interest Sue Lee Lim – we've just started working on it so stay tuned!
Lesley White
Firstly Josh huge congratulations and thank you for trying to make sustainable low carbon footprint living more mainstream. It is so very much needed. So my question… Your home is clearly specifically tailored to meet the characteristics of the site itself and its climate. I was wondering if you (and your team) would be able to provide any insights or pointers into how you might change things for other parts of Australia. For instance the climate I will be building in goes from -7 to +45, while the tropical north is completely different.
Josh's House
Hi Lesley, thanks for the lovely feedback. A number of the underlying principles are broadly relevant, especially for the southern climates; however local considerations are also critical. Check out:
http://www.yourhome.gov.au/technical/ for more info.
John Cameron
When will the temperature figures be available to view and will they be graphed over a time frame or will they be displayed on a daily basis? I'm very interested to see how the house performs during those hot spells in summer and on those nights the Freo Doctor takes a vacation.
Josh's House
Not long now – in fact I spent this morning crawling around the roof cavity working on the wiring! I expect we'll be posting the initial data with in 2-3 weeks and have the full data visualisation up and running early in the new year.
Karina J Mercer
I'm presuming the process from start to finish took a while – were there many changes from what you foresaw originally for the site, to what you ultimately built? Or did you have a very clear idea of what you wanted for yourself and your family? Our place has been in evolution for the past 10 years (from couple to couple + dogs to the family + 3under6 we are now!)
Josh's House
Hi Karina, We spent around 18 months on the design and project development, and just over 6 months to build. The design time invested is what I think makes it so special. Now that it's all built and we've moved in, to be honest there's not much we'd change.
Check out the videos on our website for the full story – https://joshshouse.com.au
Andrea Sable
Congratulations , you are a visionary and a leader for our future. My hope for Australia that the future has many more Joshs'running the country.
Josh's House
Thanks Andrea – what a lovely thing to say! And makes me want to work harder!
Amanda Inman
Hi josh, I was wondering what type of edging you used around the garden and where you sourced it from? Thanks
Josh's House
Ahhh a common question! And a good one – I reckon it's awesome. The thing is it's a salvaged product which is not readily available – it's a bit like conveyor belt material and so flexible and the perfect size. Wish I had more!
Ange Choi
Hi Josh, we loved your chook pen. Will you be able to post the plans on how to build it or let us know who built it? Thanks!
Josh's House
Thanks Ange – my kids love it too! A mate of mine built it and despite my urging, isn't keen to build any more of them – he's already onto the next project (so we got lucky!). The detailed plans will be in my next book, along with all the other info on what we've done, so stay tuned and hope this helps.
Paul Melville
Hi Josh. I'd like to congratulate you on the project too – I love the focus and scope of it, from the core concept to the finished product i think it is a great way to leverage sustainability in the WA building industry.
On that note, how is that process going? Is there a dialogue in process at the moment (or planned to be in the near future) with those in the planning and construction side of things so that this sort of concept can be rolled out as more of a standard?
If not, what do you think is the next step to making Metropolitan Perth domestic construction industry more sustainable – getting them from a 6 green star to the 10 that you've achieved?
Thanks!
Josh's House
Hi Paul, Thanks for the feedback – much appreciated. We've been very busy in this space, with a number of industry and government presentations and site meetings held over the last couple of months to make sure all the key players are aware of the project. The next step is to start publishing our data to demonstrate how the buildings perform. We hope that this, combined with the growing public interest in what we are doing provides the necessary shot in the arm needed to keep moving things forward. Watch this space – it's still early days yet!
Louise Stewart-Brown
Hi Josh – greetings from Esperance Australia – love your inspirational work. Love to Rosie too please.
Josh's House
Thanks Louise – what a great part of the world and I'm very proud of the fact that it's where I was born! Hope to get back down there soon.
Nicholas Flett
Josh, your house stays cool and warm without air conditioning thanks to smart design; how have you ventilated the home to circulate warm and cool air in summer?
Josh's House
We've installed reversible ceiling fans in the living areas and bedrooms to help with air circulation. Good cross ventilation will be the key to cooling down the internal mass overnight.
Matthew Davie
Hey Josh, I am studying Horticulture cert III. Could you give me some inspiration and advice for my Horticulture studing?
Josh's House
You've chosen a noble profession Matthew. My advice would be to keep studying and keep gardening – and if you love it and want to make a difference, then you'll go places.
Kylie Keioskie
Hi Josh, do you think it's necessary to have full drainage for an outdoor shower? Or would a 'thirsty' planting such as Bananas do the trick?
Josh's House
Hi Kylie, it depends on your soil type and how long you shower for. I'm on sandy soil so drainage is never a problem. Combined with a low flow 6.5 litre per minute shower head and short showers (for fear of my sister in law from next door catching me in the raw – at least until the plants grow and afford me some modesty), the amount of water is relatively small. If you're on heavy soil, think about putting in some drainage pipe and gravel, plus raise your sower base so you're not left standing in a bog!
Phoebe Hodgson
Thank you for sharing your beautiful new sustainable home and garden journey with us – its been great watching the videos and seeing all the wonderful things you added.
Josh's House
Hi Phoebe, thanks so much for that lovely comment it means a lot to me and it has been a wonderful journey for me and the whole team as well. All the best!
Julie Dunham
Hi Josh, a bit and miss on the following of your progress but the content that I have seen displays your usual flair and commitment. My bloke and I eventually want to end up living in the south island of NZ. Can you post a URL or other suggested reading for new and retro builds in those climes? Cheers Julie
Josh's House
We're going to wrap it up now guys thanks so much for your questions it's been a really fun couple of hours, we'll do it again soon so save the rest of your questions for next time. All the best and have a great weekend! – Josh
John Cameron
Thanks Josh. Have a good weekend.