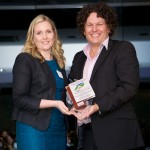 On Saturday the 14th of June, Josh and the who's who of the West Australian 'green' housing industry attended the 2014 HIA GreenSmart Awards.
Open to all Western Australian HIA members in the residential construction industry, the HIA WA GreenSmart Awards provide first-class recognition for environmental and sustainability achievements over a variety of categories.
Josh's House took out the GreenSmart Water Efficiency Award and the GreenSmart Smart Housing Award and the judges' comments were:
GreenSmart Water Efficiency Award
This project had a 20,000Litre potable UV filtered water supply, plus greywater and bore water systems, making the home almost non reliant on mains supplies. All water supply from the tank, grey water and bore is monitored. A well-deserved winner of this category.

GreenSmart Smart Housing Award
This winning project showcased a great use of water technology. Over all, the project displayed a complete monitoring system covering all aspects of water, weather, electricity, wastewater and retic, which was very impressive. The judges said the home is Innovative and showcases a superior level of workmanship.
Josh was excited to have his project highlighted within these categories.
It's great to be recognised with the Water Efficiency and Smart Housing awards. For me these categories are particularly important for this project given my interest in urban water management, as well the house's role as Living Laboratory through the CRC for Low Carbon Living and Curtin University, say's Josh.  A big thanks must go to our project partners whose continued support makes the project possible.
The Water Efficiency award was presented by Jessie Cochrane, Assistant Waterwise Programs Manager at the Water Corporation. (Pictured with Josh)
For further information on the Josh's House water management strategies, as well as the many 'smart' design features of the homes, go to the Josh's House resource page.
You can also join the conversation on twitter #joshshouse10 or on facebook.