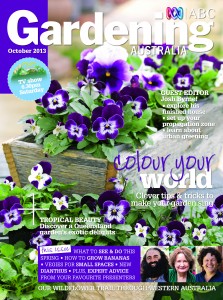 For the month of October Josh was asked to be the guest editor for the Gardening Australia Magazine, and he's added all sorts of goodies.
Josh provides insights into the design and building process of the Josh's House project, as well as its sustainability features, the veggie garden and the CRC for Low Carbon Living program. In the Expert Advice article, Josh gives us the low down on his new home nursery. He talks about the tools and containers he uses, as well as the neat frame that can be used as a greenhouse in winter or shade frame in summer.
With the worldwide Urban Greening movement rapidly gaining momentum, the October issue also includes an inspiring article on Josh's other great passion – bringing city spaces to life.