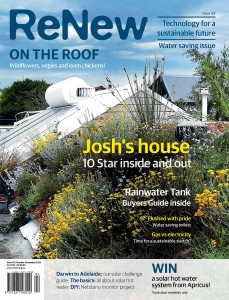 Behind 10 Star Josh's House is a productive, water smart and shade-giving garden—and you can find the plans online, writes Jacinta Cleary.
As a keen gardener in a dry spot like Perth, water has always been important to ABC's Gardening Australia presenter Josh Byrne. "From my late teens on we've always had water saving measures in place, and as a food gardener I'm always trying to come up with better watering systems." There was no doubt then that 'Josh's House' would be a water smart home.
Josh's House is the name of his ambitious building project in the Fremantle suburb of Hilton. Josh, an environmental scientist, runs a landscape and environmental design business while juggling a media career and a young family. As if not busy enough, he embarked on a "long-held dream" to build his own environmentally sustainable home and documented every step via the open-source Josh's House website, full of house and landscaping plans, fact sheets and videos to inspire anyone to build an energy and water saving home.
The two dwellings have been built in just six and a half months, with construction finishing in May. The project comprises two 10 Star homes on an 1160 m2 block, with one for his family and another for his sister-in-law. As tends to be Josh's way, there have been no delays creating a common productive garden around the homes, with an impressive water harvesting and recycling set up.
Water cycle
"All in all we will use less than a third of the typical Perth water scheme consumption while maintaining a beautiful and productive shady garden," says Josh. To do this, he's designed an integrated water system around what he calls his "water priorities", with rainwater capture and use at the top of his list, followed by greywater and bore water. One water source feeds into another helping to keep as much water as possible for reuse or infiltration within the property.
Rainwater tanks and beyond
With rainwater collection a priority, an efficient rainwater system has been installed. Each home has a wet system rainwater tank, where the collection pipes run underground to connect multiple downpipes from different gutters. This makes the most of the 200m² roof space available on each home. An underground diversion valve is fitted so that water that sits in the pipes for too long, possibly becoming stagnant, can be flushed into an underground soakwell to seep into the surrounding soil.
Josh estimates mains water backup will be needed just a few months of the year. His house has a 20,000 litre poly rainwater tank and the other has a 12,000 litre tank, both plumbed to all areas inside and some parts of the garden. The first rain of the season that might contain roof debris and dirt is also flushed into the soakwell, and drinking, cooking and bathing water is filtered through sediment and carbon filters.
The rainwater plan goes beyond just tanks. "You've got to think of the whole property as a catchment to make the most of rainwater. It doesn't have to all go into a tank, you can include swales and rain gardens," says Josh. Along similar lines to the soakwell, rainwater from the carport and front verandah downpipes goes into a native damp land soak feature, similar to a drain wrapped in geotextile fabric. This water infiltrates the soil and helps to recharge the groundwater, while creating a zone for water loving plants such as native rushes and sedges.