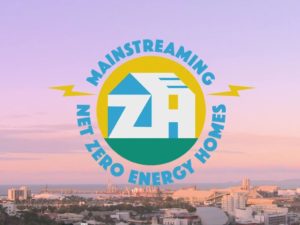 Housing is recognised as a significant contributor of greenhouse gas (GHG) emissions and as Australia works towards meeting its carbon reduction target of net zero emissions by 2050, the housing sector can play an important role in meeting this goal.
Net Zero Energy Homes (NZEH) are designed and built to consume the same, or less, energy than they produce on an annual basis. Typically, NZEH buildings are highly energy efficient through good design and quality construction and include an appropriately sized roof-top solar power generation system to match their estimated power load during occupancy.
In 2017 Dr Josh Byrne and his colleagues embarked on a two-year research project to better understand construction cost and housing industry capacity barriers limiting the uptake of NZEH in Australia. The project was a collaboration between Curtin University, the Cooperative Research Centre for Low Carbon Living and CSIRO involving four-volume builders in different states. The results of the project have been documented in a recently published design review and cost analysis reports, and the participant's journey was captured in a four-part video series produced by VAM Media.
The series follows Townsville builder Darren Finlay as he builds a NZEH display home at the North Shore estate by national developer Stockland, as well as Victorian builder SJD Homes as they build their NZEH display home at the Timbertop Estate by Parklea near Officer in south-east Melbourne.
In the final episode, Josh interviews Suzanne Toumbourou, Executive Director of the Australian Sustainable Built Environment Council (ASBEC) to discuss the opportunities for progressing NZEH performance requirements via a national regulatory approach.
You can watch the videos and download the reports via the Josh's House website.